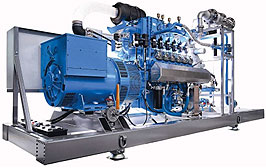 ENERGIN© GEN+ - Generators with Heat Utilization
ENERGIN© GEN+ are power generators with heat utilization. The GEN+ utilizes the heat from the engine cooling system, mixture cooling and lubricating oil. Thereby it produces hot water in a temperature range of 90 °C in the flow and 70°C in the return. The up to 500°C hot engine exhaust gas is suitable for uses in other processes.
Application Biogas Plants
Often the heat produced by a cogeneration unit is not fully used for fermenter heating. The use of our ENEGRIN© GEN+ therefore eliminates the cost intensive emergency cooling in the most cases. The exhaust heat flow out through the chimney.
Application steam generation
Up to 3 x GEN+ can be connected to a common steam generator. Depending on the temperature and pressure range, more than 1,000 kg of steam per hour can be generated. The heat from the engine cooling water circuit can be used for preheating of the feed water or for the building.
Application of Combined Cold Heat and Power (CCHP)
RSE manufactures CCHP systems completely ready for connection in the container. Optionally, up to 400 kW of cooling (6°C supply I 12°C return) or 539 kW thermal output are produced.
Application drying / process heat
The thermal power of the aggregate of cooling water can be used for building heating or domestic water heating. The hot exhaust gas is suitable e.g. for drying wooden pallets or for thermal oil heating.